Neko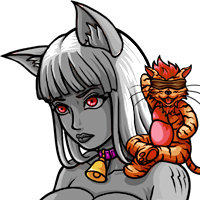 Active
The Toymaker's love of kittens inspired him to craft this attractive, feline Soul Puppet with extreme care. Despite its gorgeous appearance, it is a powerful creature that can wield an enormous axe with movements so quick the opponent won't know they're in danger of decapitation until it's too late.
Category Information
Soul Puppet
Soul Puppets Eggs are unlocked via the means listed here and acquirable from Dungeons, Breeding and NPC Shops.